With built-in long life internal batteries and underground telemetry, the Terrasonde can operate without wires or solar panels – those nuisance additions that ultimately get damaged during farming operations such as harvesting, sowing or spraying.  In the dryland model, the primary lithium batteries has a lifetime of >10 years and the probe samples once per day. However, for application in horticulture, especially in drip irrigated crops, more data is required and hourly readings are typical.  Such a high energy use would drain the internal battery in 2 years, but there is a solution – replaceable primary batteries.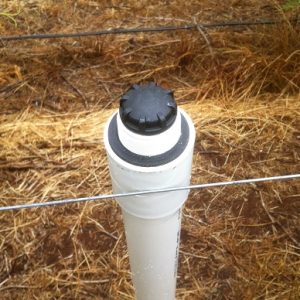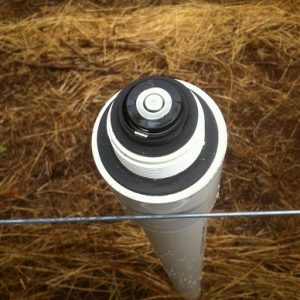 The horticultural model of the Terrasonde is 120cm long and has eight sensors spaced apart at 10cm intervals. The top sensor is 20cm under the cap so that it can make the first measurement at 10cm depth.  This probe model is ideal for row crops, cotton, nuts, grapes, citrus, veges.  It is installed with a hand auger and sealed into the soil with a slurry compound. The IP68 battery housing holds two primary lithium C-cells and the dust cap keeps dirt and water away from the housing o-rings, so the probe can last for many, many years.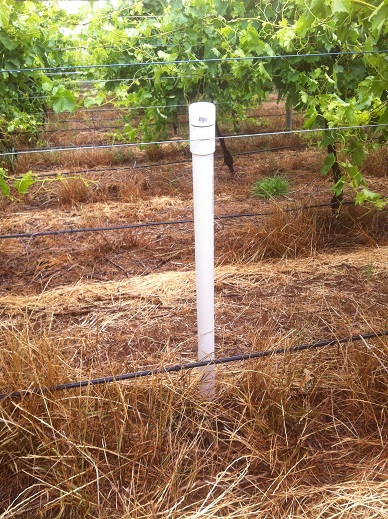 In late 2017 we installed the new horticultural probe in the sultana farm.   The chart below shows the stored water in Block 8.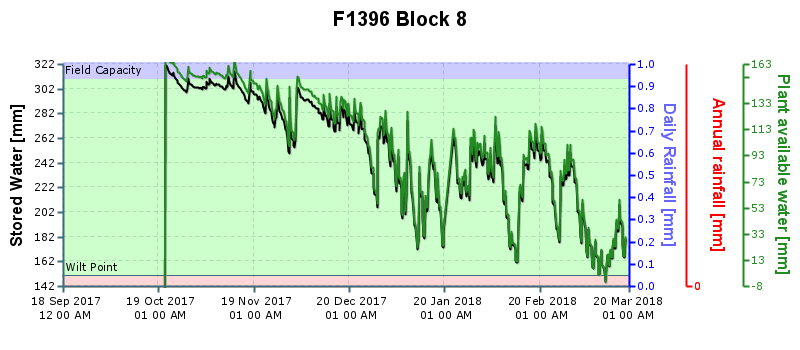 You can view the soil moisture data on our farm in real-time by clicking on the Demonstration sites.